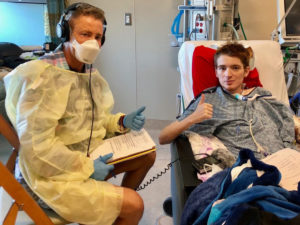 In his latest podcast, Jerry Cahill sits down with Storm Johnson, a 22-year-old CFer who is currently recovering from a double lung transplant at Duke. Before his transplant, Storm's lung function dropped to 8%.
Tune in to hear about his love of cars, his recent engagement, his journey to transplant, and what his hopes are for his life three weeks post-transplant.
This podcast was made possible through an unrestricted educational grant from Chiesi to the Boomer Esiason Foundation.